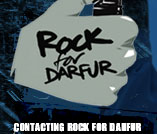 MySpace has not only had a change in user population, but apparently is also working on changing its reputation. Most often cited as the online community through which adult predators seek their teenage victims, in discussions I have heard, MySpace is rarely talked about in any positive sense; they are usually condemned as the vehicle for adult predators to find their prey.
According to Oct. 11 Digital Music News Daily Snapshot, MySpace is initiating a humanitarian outreach program for Sudan, in conjunction with relief organization Oxfam. The program, "Rock for Darfur," will feature concerts by well-known artists with part of the proceeds going to the relief efforts, and endorsements and pleas for assistance from stars such as Samuel L. Jackson and George Clooney.
This should help the reputation of MySpace in the eyes of some people and can certainly bring massive awareness to the horrors occuring in Sudan. This may also be a reflection of the change in the age of the user population now seen in MySpace.
This is said to be the largest philanthropic effort by MySpace to date. Whatever the motivating factor for this effort, I believe it is a good move on the part of MySpace and certainly a much needed project for the people of Sudan. Way to go, MySpace!